OPEN SHOP

Volunteer, Repairs, Sales
Core Programs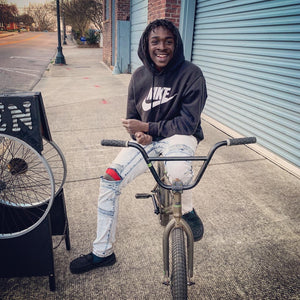 Free Earn-A-Bike Program
Earn a free bicycle at The Pedal Factory. Completing a checklist involving a bit of learning and a bit of volunteer work in the shop can earn anyone in the community an overhauled, functional bicycle to use for recreation or transportation.
Learn More About Earn-A-Bike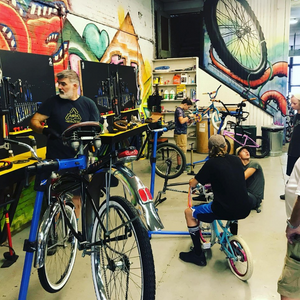 Open Shop Hours & Work Days
The shop is open every week on Tuesdays 12-6, Wednesday 12PM-6PM and each Thursday 12-6 pm. This is a time where anyone can come in and make repairs to their personal bikes using our shop, tools and used parts selections. Drop off repairs, sales and bike fittings are also available during open shop hours, and appointments are encouraged. We have a selection of used bikes and parts for sale, retail merchandise and some new parts as well. Please contact us to make an appointment or to arrange donation drop offs outside these hours. When we have staff and volunteer availability, we may schedule saturday open shop time and/or host community events.
Learn More About Open Work Days
Used Bike Parts and Gear
The Pedal Factory is also home to LOTS of used parts, bike frames and gear - used parts may be purchased through volunteer time as well as monetary donation. You never know what you'll find in our inventory - and it changes often! Got gear or parts to get rid of? We will take your donations gladly!
Bike Parts and Used Gear